Ecoponics Upcycling Workshops
Upcycled Fabric Braided Coaster
Ecoponics Upcycled Fabric Braided Coaster is a sustainable and stylish solution to protect your surfaces while reducing waste. These coasters are handcrafted using upcycled fabric, making them an eco-friendly alternative to traditional coasters.
Each coaster is meticulously braided from strips of fabric, giving it a unique and textured look. The upcycled fabric used in the production process comes from discarded clothing, ensuring that no additional resources are consumed in its creation.
By repurposing old fabric into functional and decorative coasters, the Ecoponics Upcycled Fabric Braided Coaster promotes recycling and reduces the amount of textile waste that ends up in landfills. This environmentally conscious approach not only helps to conserve resources but also adds a touch of sustainable style to your home.
With their vibrant colors and patterns, these coasters add a pop of color to any table setting or decor. They are durable and absorbent, providing an effective barrier against spills and condensation. Whether you're enjoying a hot cup of coffee or a refreshing cold drink, these coasters protect your furniture while making a positive impact on the environment.
Join our Upcycled Fabric Braided Coaster for a practical and aesthetically pleasing addition to your home that aligns with your commitment to sustainability!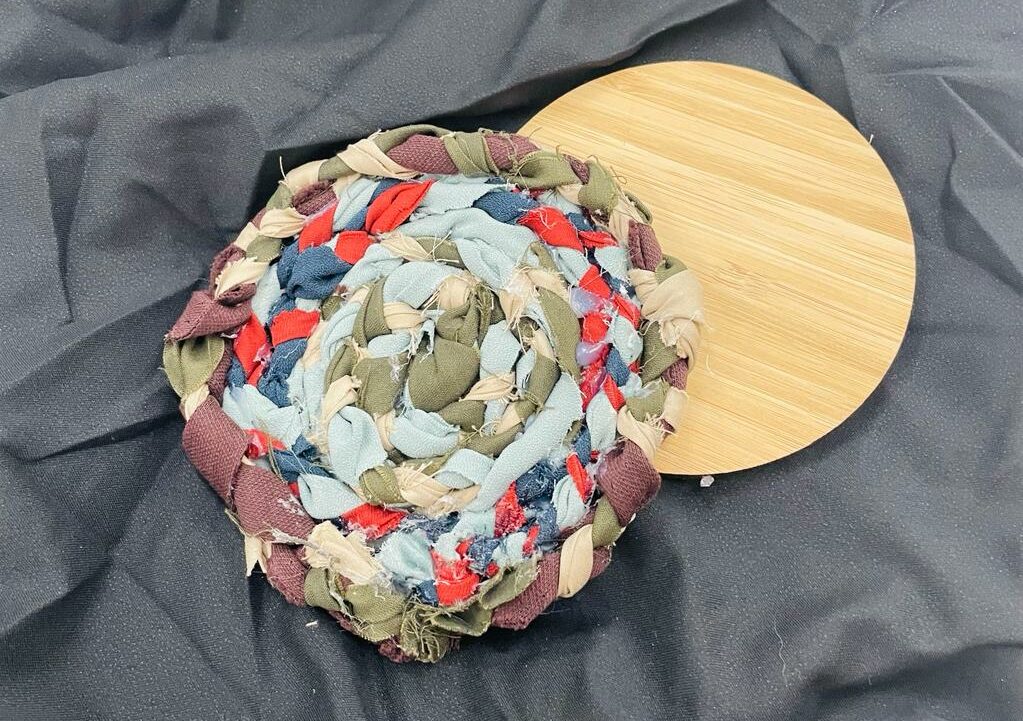 In our Upcycled Fabric Braided Coaster Workshop, participants will be able to:
Learn about the issue of waste and how waste is managed in Singapore.
Explain the concept of upcycling and how it differs from recycling.
Understand the benefits that upcycling has on our environment.
Have their own hands-on experience in making an upcycled fabric braided coaster!
Take Exit B from Marymount MRT and walk towards MAPEX building. Proceed to the third floor via the lift and exit through 2 doors on the right to the carpark. We are located right at the end!
All Materials Provided & Trainers Guidance
All necessary materials and most equipment required for the workshops will be provided by Ecoponics. In addition, certified instructors and trainers guide participants through the entire process, from theory to practical application.
Participants learn about the differences between upcycling and recycling, the benefits of upcycling to the environment, and how to create functional items from used materials.
Benefits of Upcycled Fabric Braided Coasters
Understand The Importance Of Waste Reduction & Sustainability
Through hands-on experience, participants can learn about the concept of upcycling and how it contributes to minimizing textile waste.
This upcycled fabric braided coaster workshop fosters a greater understanding of the environmental impact of consumer choices and encourages participants to adopt more eco-friendly practices in their daily lives.
Creativity & Skill Development
Participants will be able to tap into their creativity and develop new skills. Participants learn various techniques for braiding fabric strips, creating unique patterns, and transforming discarded materials into functional and aesthetically pleasing coasters. 
This hands-on activity encourages experimentation, problem-solving, and the development of fine motor skills, making it a fun and engaging experience for all participants.
Sustainable & Eco-Friendly
Home Décor
Participants will be empowered to create sustainable home décor items using recycled materials such as old-tshirts, table cloths and other pieces of scrap fabric they have lying around at home.
These coasters can be used in their own homes or gifted to others, serving as a reminder of the importance of sustainable living.
Through this workshop, participants gain practical knowledge about how to repurpose materials, reducing their reliance on single-use items and contributing to a more circular economy.
Upcycling Fabric Braided Coaster Workshop FAQ
Book an Upcycling Workshop with Ecoponics for an eco-friendly educational/teambuilding session.
Receive an accurate quote within 3-5 days when you fill out the form on this page. Or, give us a call:  65535663 / 86886636
Ecoponics' upcycled fabric braided coasters are a remarkable blend of sustainability, craftsmanship, and artistic flair. These coasters are meticulously handcrafted using discarded fabric scraps and old clothing, transforming them into functional and visually captivating pieces that contribute to a greener world.
At the core of Ecoponics' coaster-making process is the commitment to sustainable materials and practices. Instead of allowing fabric waste to end up in landfills, they repurpose these materials, breathing new life into what was once deemed useless. By upcycling fabric scraps and old clothing, Ecoponics reduces waste, minimizes their ecological footprint, and exemplifies the power of resourcefulness.
Through their workshops, Ecoponics invites participants into a world of braiding techniques and design innovation. These hands-on sessions allow individuals to explore various types of braids, such as spiral, flat, or round braids, and grasp the intricacies of creating them. Participants are encouraged to experiment with different designs, color combinations, and embellishments, enabling them to unleash their creativity and produce coasters that are not only practical but also aesthetically pleasing.
The selection and preparation of materials are paramount in Ecoponics' coaster-making process. Participants learn to discern which fabrics are ideal for braiding, considering factors such as durability and visual appeal. Fabric scraps and old clothing are transformed into meticulously cut strips, ready to be woven into intricate patterns. This approach not only gives new life to forgotten fabrics but also encourages participants to appreciate the beauty and potential of upcycled materials.
The resulting upcycled fabric braided coasters are more than just functional items. They serve as practical barriers against heat damage and water rings, preserving the surfaces of furniture and tabletops. However, they also embody artistic expression. Each coaster showcases the unique handiwork of its creator, boasting intricate braided designs, captivating color combinations, and thoughtful embellishments. They add a touch of artistic elegance to any setting, elevating the aesthetic appeal of the space and sparking conversations about sustainability and eco-conscious living.
Beyond the physical creation of coasters, Ecoponics' workshops foster environmental awareness and education. Participants gain insights into the positive impact of upcycling, understanding how their small actions contribute to reducing waste and conserving resources. Through engaging discussions and demonstrations, they learn about the broader environmental benefits of upcycling and discover practical ways to incorporate sustainable practices into their everyday lives.
Ecoponics' upcycled fabric braided coaster workshops also cultivate creativity and problem-solving skills. As participants embark on their coaster-making journey, they encounter challenges and variations in design. However, with the guidance of experienced instructors, they learn to adapt, think innovatively, and overcome obstacles. These skills empower participants to become more resourceful and resilient, extending beyond coaster making to other aspects of their lives.
In conclusion, Ecoponics' upcycled fabric braided coasters are a testament to the harmonious fusion of sustainability, craftsmanship, and creativity. Through our dedication to repurposing materials, fostering artistic expression, and promoting environmental awareness, Ecoponics inspires individuals to make a positive impact on the planet while adorning their spaces with beautifully crafted and eco-friendly coasters.