Come join EcoPonics' Terrarium Workshop and bring home your own Garden in a Bottle. Terrariums are easy to create, take up little space, and require low maintenance, all the while providing greenery in the home or office! If you've always wanted a flourishing garden of your own, but don't have the space at home or the time to take care of your plants, a terrarium will be perfect for you. Make it an experience to remember with your family, friends or colleagues through our Terrarium Workshop.
Our workshops are a great team building activity for you to know your family, friends or colleagues better, while exercising your creative juices at the same time. Best of all, you get to take home your own personalised memento. We have organized workshops for:
Corporate Team Building
Company Family Day
Schools
Seniors Activity Centres
Community Centres
Hen's Day
Birthday Parties
…and many more!
Book a personalized workshop with us for a unique experience at your event!  Contact us to find out more.
Workshop Outline
Our friendly and experienced trainers will guide you along every step of the way.
Introduction to Terrarium
A short introduction to the natural processes occurring in a terrarium that help your plants to thrive.
Choosing your container and plants
Select a container to house your plants. Consider the number of plants you intend to have, and pick a suitable glass container from our available selection.
Next, choose the types of plants that are most suitable for the terrarium you have chosen to build. We will share more about which plants are best for your terrarium, and how to pick complementary plants for a nice variety!
Building your Terrarium
Time to get started on putting the layers of your terrarium together!
Care advise for your terrarium
Give your plants a good spray of water and you're done!
You will also learn how to take care of your terrarium by providing the right amount of water and sunlight.
Duration
Each workshop is approximately 1-1.5 hours.
What to Bring
Just bring yourself and get ready for tons of fun!
All materials for the terrarium will be provided.
Venue
Workshops can be held at EcoPonics' workshop space (fits a maximum of 14 pax), or at your selected location.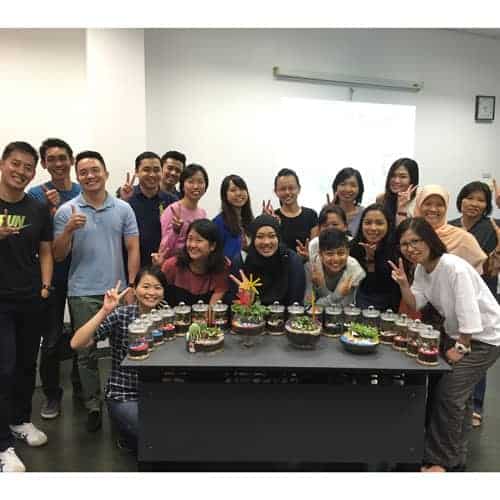 Contact us to make an appointment for our Terrarium Workshop now. We look forward to seeing you soon!