Terrariums come in various shapes and sizes. And depending on the decorative layer used, terrariums with the same bottle type can be designed with a different touch. In this article, we will be sharing with you 3 unique ready made terrariums that are designed using different bottle shapes. All these terrariums are made using various plant species – with varieties ranging from nerve plants to cacti and button ferns. The following designs are all made at Ecoponics (terrarium workshop singapore). Basically there are various layers in a terrarium bottle. The 4 layers are namely: The gravel layer, moss layer, soil layer and the final decorative layer. The layer that will be of focus here is the decorative layer. Without further ado, let us begin with the first example.
Example 1: Open Bowl Terrarium
Plant Variety: Button Fern & Red Fittonias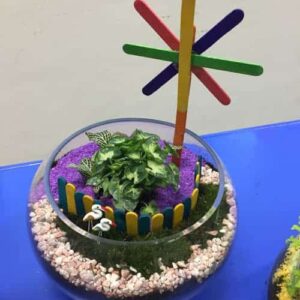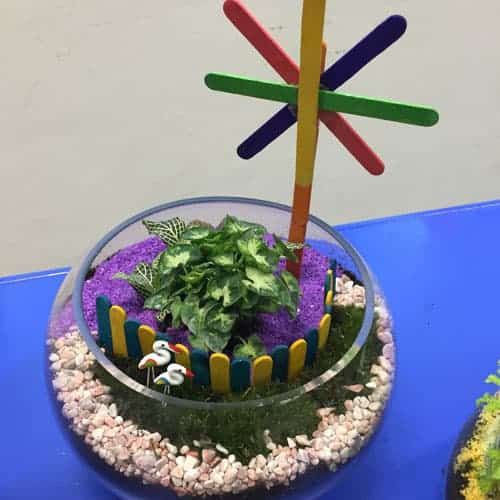 Source: Ecoponics terrarium workshop singapore 
This particular design features a decorative layer made from fine blue sand. This illustrates a sea of blue. The surrounding white pebbles form a pearly barrier around the blue seascape, giving an illusion of a lake.
Example 2: Open bowl Terrarium
Plant Variety: Cacti and Fittonias (Red & White)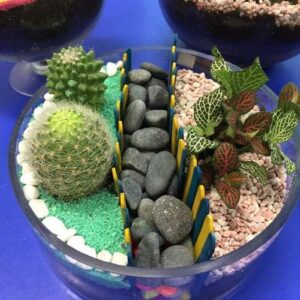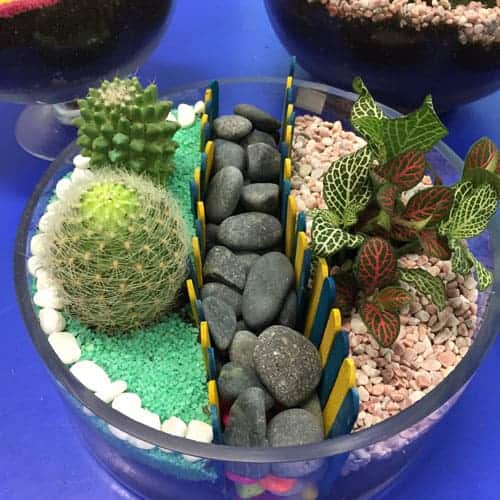 Source: Ecoponics terrarium workshop singapore 
As you can see, this particular design, though made from the same bottle (fish bowl) as the previous design, looks vastly different because of the way its decorative layer is designed. This terrarium depicts an island divided in half, where the right half is filled with pink gravel & fittonia plants and the left half is filled with fine turquoise sand and cacti. The very center is layered with pebbles thus forming a river.
Example 3: Hanging Sphere Terrarium
Plant Variety: Tilandsia Air Plant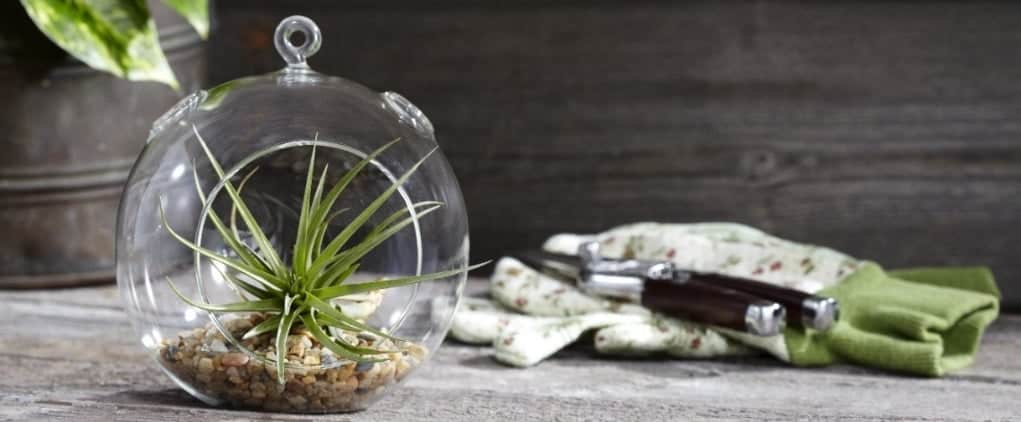 Source: Ecoponics terrarium workshop singapore 
Design number 3 utilizes a hanging sphere container. Hanging spheres are space savvy as they do not take up much area. Hence Tilandsias which are also known as air plants are fitting for the open sphere design. In comparison to other types of terrarium plants, because Tilandsias do not need soil to thrive, this particular design sparks a minimalistic outlook – only a mixture of gravel and pebbles are used.
Interested in designing and making your very own terrarium? We at Ecoponics conduct regular individual and group terrarium workshops for both corporates and schools. Come participate in our terrarium workshop!