Ecoponics Upcycling Workshops
Upcycled PET Bottle Self-Watering Planter
At Ecoponics, we are dedicated to educating individuals on the importance of environmental conservation and equipping them with the knowledge and tools necessary to make a positive impact.
Our Upcycled PET Bottle Workshops provide a unique and engaging learning experience that teaches students the significance of upcycling in reducing waste and promoting sustainability. Through our workshops, students will have the opportunity to repurpose PET bottles into functional and stylish self-watering planters, perfect for growing a variety of plants.

Our workshops aim to address the pressing issue of limited landfill space in Singapore by reducing waste and promoting a circular economy. Students will learn about waste management practices and the benefits of upcycling, such as conserving resources and reducing carbon emissions.
Our expert instructors will then guide students through the process of creating their own self-watering planters using PET bottles, from attaching a wick and water reservoir to selecting the appropriate plants and caring for them. In addition to their aesthetic appeal, self-watering planters offer numerous environmental benefits, including reduced water usage and waste.
By participating in our Upcycled PET Bottle Self-Watering Planter Workshops, students not only contribute to a greener and more sustainable future but also gain valuable knowledge and skills to continue upcycling at home.
Join us in our mission to create a positive impact on the environment, one planter at a time.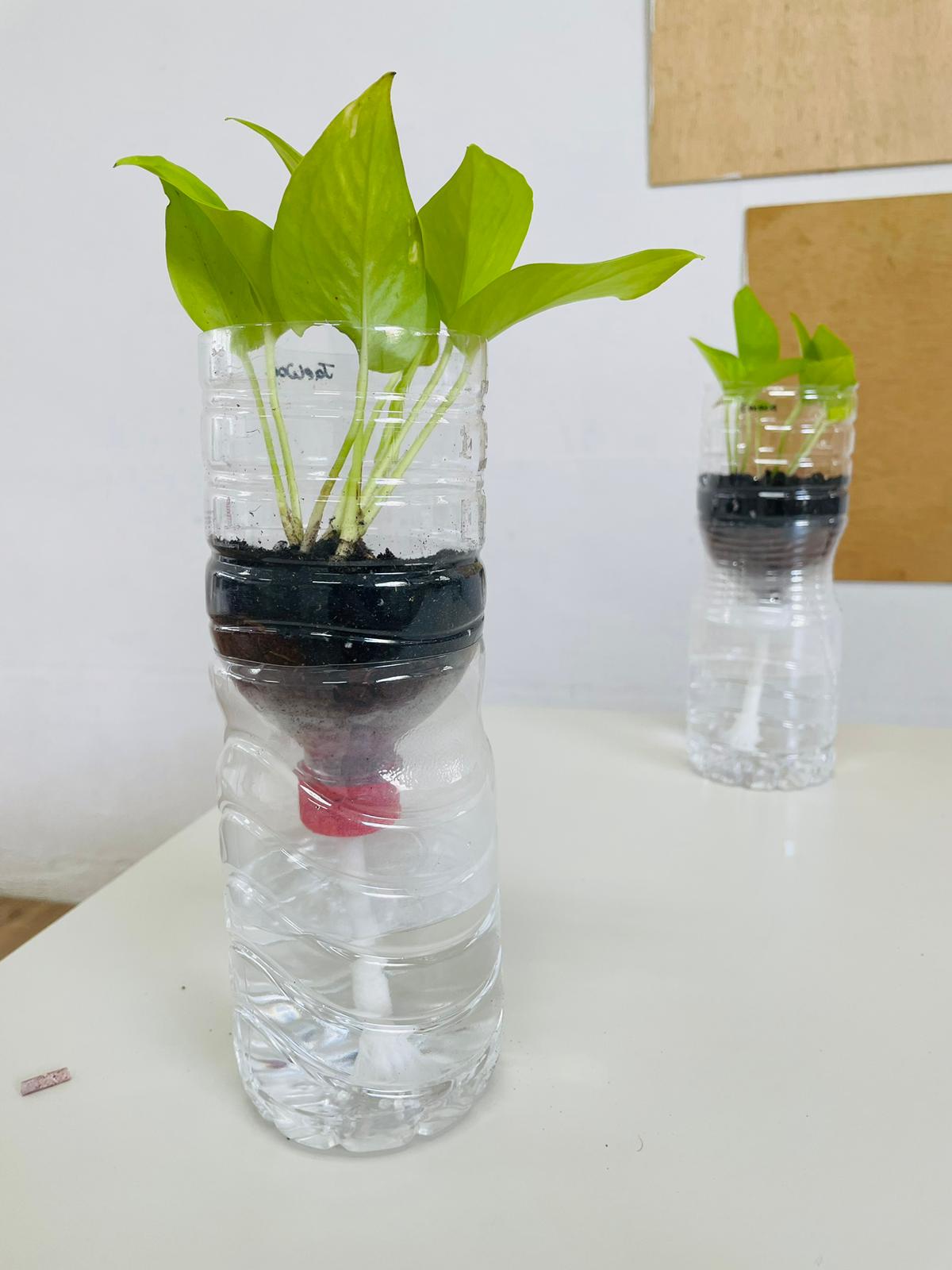 In our Upcycled PET Bottle Self Watering Planter Workshop, participants will be able to:
Learn about the issue of waste and how waste is managed in Singapore.
Explain the concept of upcycling and how it differs from recycling.
Understand the benefits that upcycling has on our environment.
Have their own hands-on experience in making an upcycled self-watering planter from a used PET bottle.
Take Exit B from Marymount MRT and walk towards MAPEX building. Proceed to the third floor via the lift and exit through 2 doors on the right to the carpark. We are located right at the end!
All Materials Provided & Trainers Guidance
All necessary materials and most equipment required for the workshops will be provided by Ecoponics. In addition, certified instructors and trainers guide participants through the entire process, from theory to practical application.
Participants learn about the differences between upcycling and recycling, the benefits of upcycling to the environment, and how to create functional items from used materials.
Benefits of Upcycled Terrarium Workshops
Empowering Environmental Education
At Ecoponics, we believe in the power of education to drive positive change. Our upcycled PET Bottle self watering planter workshops offer an empowering environmental education experience. Participants not only learn practical skills in upcycling and gardening but also develop a deeper understanding of sustainability and its importance.
 By engaging in hands-on learning, attendees gain the confidence and knowledge to make eco-friendly choices in their daily lives, fostering a greener future for all.
Sustainable and Stylish Solutions
Ecoponics' upcycled PET Bottle self watering planter workshops offer a sustainable and stylish solution for eco-conscious individuals. By repurposing PET bottles into self-watering planters, we help reduce plastic waste and contribute to a circular economy. 
Our workshops provide participants with the knowledge and skills to transform waste materials into functional and aesthetically pleasing planters that add a unique touch to any space. 
With Ecoponics, you can create a greener world while elevating your interior or outdoor decor.
With Ecoponics' upcycled PET Bottle self watering planter workshops, unleash your creativity and personalize your green oasis. Our workshops provide a platform for self-expression and artistic exploration.
Participants have the opportunity to design and customize their planters using various techniques, decorating and adding personal touches. The result is a one-of-a-kind planter that reflects your style and taste.
Let your imagination flourish while contributing to a more sustainable planet with Ecoponics.
Variations of Upcycled Terrarium Workshops That We Offer
We are proud to offer a range of variations of upcycled terrarium workshops, where you can learn to create your own stunning miniature gardens while also contributing to a sustainable and environmentally conscious lifestyle.
Our workshops are designed to inspire creativity and promote sustainable practices by repurposing discarded or unused items into unique terrariums. With our expert guidance, you'll learn how to transform everyday objects into beautiful living landscapes that can thrive in any indoor environment.
Upcycling Terrarium Workshop FAQ
Book an Upcycling Workshop with Ecoponics for an eco-friendly educational/teambuilding session.
Receive an accurate quote within 3-5 days when you fill out the form on this page. Or, give us a call:  65535663 / 86886636
At Ecoponics, we are passionate about sustainability and empowering individuals to make a positive impact on the environment. Our Self-Watering Planter Workshop is designed to provide you with the knowledge, skills, and inspiration to transform everyday PET bottles into functional and eco-friendly planters. Join us on this exciting journey as we upcycle, create, and cultivate a greener world.
Sustainability lies at the core of our workshop. By repurposing PET bottles, we help combat plastic waste and contribute to a circular economy. Through hands-on learning, we guide you through the process of converting these discarded bottles into self-watering planters that not only benefit your plants but also enhance your living spaces. With Ecoponics, you can turn waste into beauty and take a meaningful step towards a more sustainable future.
Our workshop is an opportunity to dive into the world of self-watering planters and explore their benefits. Learn how these innovative systems work, allowing plants to draw water as needed, reducing water waste, and promoting healthy plant growth. We'll guide you through the process of creating a self-watering planter, providing insights into the materials, tools, and techniques required. From assembling the planter to customizing it with your unique artistic touch, you'll discover the joy of repurposing while embracing your creativity.
Education is a fundamental pillar of our workshop. Beyond the hands-on experience, we are dedicated to empowering you with knowledge about sustainable practices and the importance of environmental stewardship. Gain a deeper understanding of the principles of upcycling and the benefits of self-watering planters, including water conservation, efficient gardening techniques, and the positive impact on plant health. Equipped with this knowledge, you can make informed choices and inspire others to adopt a more eco-friendly lifestyle.
Whether you're a beginner or a gardening enthusiast, our workshop caters to all skill levels. You don't need prior experience or gardening knowledge to participate. Our expert instructors will guide you every step of the way, ensuring an inclusive and enjoyable learning experience. Connect with like-minded individuals who share your passion for sustainability and foster a sense of community as we embark on this green journey together.
Beyond the workshop, we strive to provide ongoing support and inspiration for your sustainable gardening endeavors. We offer resources, tips, and guidance to help you care for your self-watering planter and select suitable plants. Join our community of Ecoponics enthusiasts, share your creations, and continue to explore the endless possibilities of upcycling and sustainable gardening.
At Ecoponics, we believe that small actions can lead to significant change. By participating in our Self-Watering Planter Workshop, you are taking a meaningful step towards a greener future. Embrace sustainability, unleash your creativity, and let your planters be a testament to your commitment to the environment. Together, we can create a more beautiful and sustainable world, one PET bottle at a time.
Join us at Ecoponics and embark on an exciting journey of upcycling, creativity, and sustainable gardening. Together, let's make a difference, one self-watering planter at a time.