One of the most effective ways when it comes to mastering and learning a concept anew is experiential learning. As such we have ensured that our terrarium workshop embraces experiential learning. Through our workshops, participants will obtain first hand experience of how to apply the knowledge they have picked up in school to the real world.
Hands on Learning
A major hallmark of the experiential learning process are practical lessons. As our terrarium workshop focuses on hands on learning, students will get the opportunity to design their terrarium from scratch. While doing so, our facilitators will explain how the various scientific concepts they have learnt in school are related to terrarium making. An example of which is the water cycle as shown below:

source: The water cycle
Students are in Charge of Maintaining Their Own Terrarium
We also believe that lessons are opportunities for students to not only learn about the various facets of knowledge. As such we hope to instill a sense of responsibility in our students that as young adults, they have a major role to play in environmental sustainability. We do this by letting them bring home their terrarium where they will bear full responsibility in maintaining it back home. The picture below is taken at endeavor primary school. It shows students in the process of planting their Fittonia plants.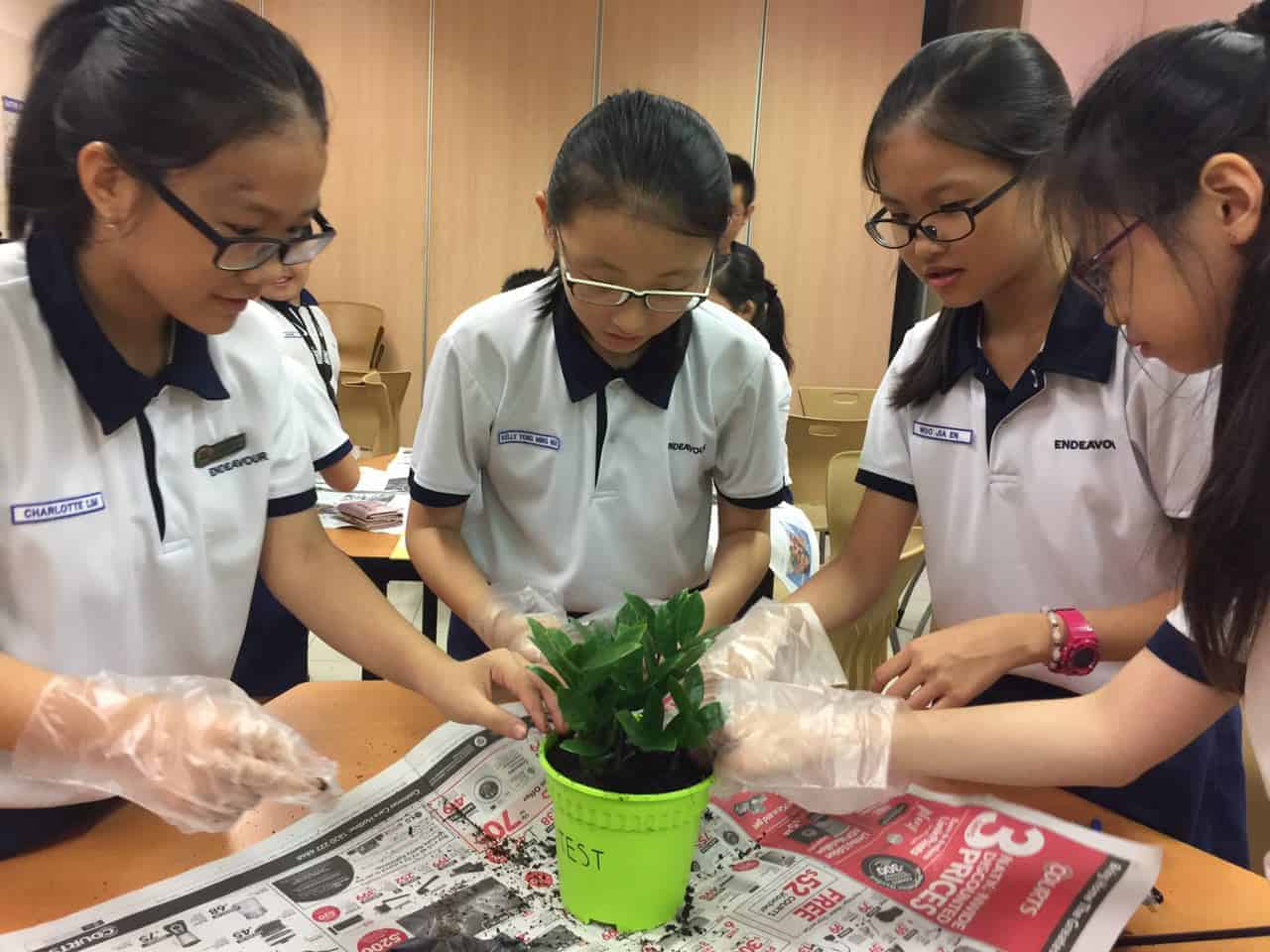 Journaling (After the Terrarium Workshop)
What are practical lessons without the act of journaling? Journaling is the act of keeping records of various processes of the activity that one engages in. This therefore makes it especially effective when it comes to encouraging students to reflect about their learning journey.
Doing so allows us to introspect more about the various processes involved in the activity (for this case, it would be terrarium making). And as a result we get to unravel crucial learning points that we have missed out during the activity. Journaling also enables us to 'travel back in time' to review the activity conducted. All these benefits of journaling will then serve as a powerful means to amplify the impact of experiential learning.
Interactive Learning
Studies have shown that by incorporating an element of fun into our terrarium workshop, students will be more engaged and focused during the workshop. We do this by ensuring that our workshops are interactive. Our professional instructors who have years of experience in the art of terrarium making will regularly prompt participation via interesting Q & A sessions and engaging activities.
Source: Conventional vs Interactive learning 
Creativity
By incorporating an element of creativity in the terrarium building process, students are able to absorb the contents taught at a much faster rate. We do so by allowing them to design the various layers of their terrarium. After which they will get to choose their figurines (miniature display items).
Interested in bringing out the artist and scientist in your little ones through our terrarium workshop? Then feel free to look us up at Ecoponics! We conduct fun-filled and educational terrarium making workshops!