Terrarium designs are varied and beautiful. This doesn't only refer to the interior of a terrarium, but the shape of the terrarium vessel. Even before we fill up the terrarium with lil plants and figurines, the shape of the terrarium already makes a statement for itself. Here are some of our favourite terrarium designs that we love!
Classic Bowl Design
A classic open terrarium is always eye-catching! There is a timeless quality to this style and you definitely will not go wrong with bowled terrariums. The bowled shape also showcases the content of the terrarium very well. Thus, this terrarium design is excellent as a centrepiece for tables.
Hanging Design
Tear-drop shaped terrariums look much lovelier when hung. Moreover, hanging vines or droopy flowers complement the vessel perfectly. There's a clean and fresh vibe to this terrarium design, which goes well with minimalist themed rooms!
French Press Design
Have a french press lying around? Upcycle them instead of discarding them away! The layers in the french press nicely separate the terrarium layers. It also lends a hand to the drainage system of the mini ecosystem.
Geometric Design
I do have a soft spot for geometric terrariums. There's a beauty within the clean lines which frame the picturesque mini garden inside the terrarium. The geometric terrarium design in the photo above is known as a dodecahedron terrarium. Looking for something simpler? Fret not, there are pyramid and cube geometric terrarium designs as well, pick whichever you fancy!
Plant Vase Design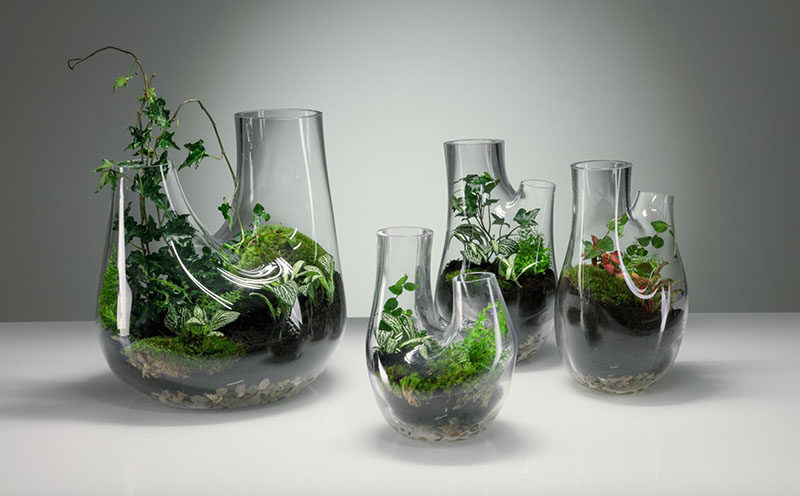 Want something out of the norm? This U-shaped vase terrarium by Tom Dixon brings a lil abstractness to the table, but the design is definitely aesthetically pleasing!
It's fascinating to see how others explore their creativity with terrariums! Interested to make one for yourself? Come for our Terrarium Workshops with your friends or colleagues to try now! Ecoponics (Terrarium Workshop Singapore) has a varied assortment of glass vessels as well, with egg terrariums and angled terrariums to offer.
PS: If you are lazy to make your own, our Handcrafted Terrariums are up for sale! They come in various designs, from the classic jar to the trendy geometric terrarium. Do check them out.