The miniature self sustainable garden in a bottle comes in all types of shapes & sizes. The 2 main types of terrarium bottles are open and closed in design. In this article we will list down 3 various types of open terrarium bottles that we have available at our terrarium workshop.
Open terrariums
Open terrariums are non-enclosed terrariums. Hence, being exposed to the atmosphere they require a little bit more maintenance (as went through during our terrarium workshop: water it once every 2 days).
The hanging sphere terrarium:
The top contender goes to the hanging sphere design. Due to the elegance of the design the hanging sphere terrarium is very much well sort after by terrarium enthusiasts!
Source: Hanging sphere (Ecoponics) 
Hanging spheres are space savvy as they do not accommodate much area on the table or the desk they sit on. The sphere is made from glass and the hanging stands, necessarily thin to give an illusion of a floating globe.
2. The Fish Bowl Terrariums:
The simplicity of maintaining a terrarium goes in line with the fact that one can use practically almost any type of container. The design as shown in the picture below is a fish below design. Although it takes up more space than the hanging sphere, it is able to house more varieties of plants and decorative materials.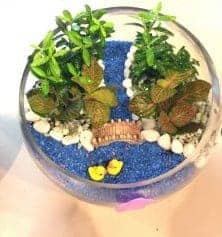 Source: Open Terrarium (Fish Bowl Design) 
3. Champagne Terrariums:
This unconventional design of an open terrarium features a champagne glass as the terrarium bottle. There is a recent uptrend in the home interiors domain for green styling. This particular type of design is fitting for home interiors. Given that it is improvised using a champagne glass, this terrarium bottle is most often used for dining interior decors.
Source: Open Terrarium (Champagne Glass Design)
Interested in designing and making your very own terrarium? We at Ecoponics conduct regular individual and group terrarium workshops for both corporates and schools. Come participate in our terrarium workshops!